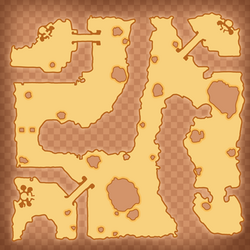 To enter the instance, double click the Giant Stone Turtle Switch located in
Auma Trail
(E09, N13) and select "Dragon Palace Heist [LV 40]"
Once you make your selection, you have 10 minutes to enter before the Labyrinth will collapse.

You have two hours to complete the instance. It is advised to team up in order to complete the instance.
To exit the instance, you have three options:
Complete; kill the final boss in the instance and exit at the end
Quit; walk through the portal at the beginning
Fail the instance; either by dying or not completing the instance in time
Dragon Palace Heist is located underwater. If you enter without having used an Oxygen Pill, you will get Anoxia, a debuff that will slowly eat away at your HP. The only way to get rid of this debuff is with an oxygen pill.
Seabed Treasure Chests
Edit
There are 3 Sea Bed Treasure Chests are located throughout the map. These are used for the quest ??? given by Takashi. You will receive the quest item when you or someone in your team double-clicks the Treasure Chest. Although, you must be in range of the treasure chest for it to work.
| Item | Coordinates |
| --- | --- |
| ??? | E25, N15 |
| ??? | E01, N29 |
| ??? | E15, N02 |
Bubble-Blowing Fish
Edit
Location:
E05, N04, behind Sharkling Duke
Refine
for the chance to obtain:
Time: 90 seconds
Cost: 100 gold
Success: 50% chance
Note: Bubble-Blowing Fish relies on C-Card Refining. If you level your C-Card refining, it will bring up your rare item chance and success rate, as well as decreasing the time.
Map of the NPCs



Click the icon to view
See also: Category:Dragon Palace Heist Monsters