Welcome to the wiki. We're a collaborative community website about the online MMORPG hosted by Beanfun! US called Divina Online that anyone, including you, can edit. Click the edit button at the top of any page to get started! New Players should consider starting with reading the Beginner Info Page to learn all the Basics.
Contents
Current Server Version

The local server is currently officially operating in Episode 1: Fable of the Fist.
The game is closed as of January 13th, 2013.

---

The server is currently configured with two channels: "PvE Focused" for those encouraging Player-VS-Environment play, and "PvP Friendly," which contained a special activity arena that allowed players to PK each other. Regardless, both have full access to other PvP Options. The current Level Cap is 110 (45AP, Max Rank 8).

The current crafting cap is 10. The current domain cap is 10.

---

Past details for the game can be found at the History page of the wiki. Updates can be found at the game's Homepage.
Divina Media
Divina has some other media types for it other than just the game. Other than its list of official Trailers, there is also a Comic. Other offical media may be released in the future.Additionally, Divina features some popular Voice Actors as the voices available in game, both for character voices and the voices of some of the major NPCs found along the way.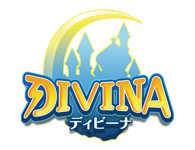 Newest Guides