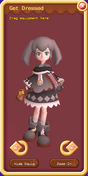 Costumes Are Not Armor
Edit
Costumes are the only equipment which change how you actually look (even though Weapons do show up visually), however they are still not armor. Typically, if you get a brand new Costume of a much higher level, your combat capabilities will still remain unchanged (see Divine Wheel, exception being Premium Costumes from the Item Mall). In other words, most costumes are for cosmetic purposes only. At the beginning, the player will start with the default costume for their class, and they will be capable of switching to any Costume which matches their Gender and Level as they progress in the game.
Costumes can be obtained in many ways: purchasing them from NPCs for in-game gold (some require completing certain quests before they are made available for purchase), purchasing them from the Item Mall, digging at certain locations during the Treasure Hunt event, using the Sidekick work skill Treasure Hunter, completing the Creature Tome, trading in Happiness Points obtained during Power Hour or from Faith Boxes obtained from the Temple in one's Personal Domain.
Most costumes are dye-able, which means you can change the color of your costume. There are 3 kinds of dyes: Single Color, Rainbow and Random. The Single Color dye allows you to select various shades of the single color (eg. Light Blue, Aquamarine, Dark Blue). Rainbow Dye allows you to select the color you wish to dye your costume from a large pallete of colors, along with offering two unique colors only available in a rainbow or random dye: Black and Tea. Finally, the Random dye will dye your costume with a color randomly selected from the Rainbow dye pallete. One dye is required for each individual costume piece (one for Hat, one for Top, one for Shoes, etc)
Costume Locations
Edit
All Costumes fit into at least one of the following location while worn, similar to traditional equipment. Most Sets of Costumes will not fill all of the following spaces, allowing the additional spaces to either be left empty or filled with a piece from another set, allowing various amounts of customization. Occasionally, some assorted Costumes will not belong to a set at all, and sometimes a set will have more than one possible Costume for a given location.
List of Regular Costume Sets by Level Required
Edit
Regular costumes refer to costumes which do not offer any bonuses when worn (they are only cosmetic). Some of the regular costumes may thus be found in the Item Mall, especially for some of the more exclusive costumes.
Individual Assorted Pieces By Level Required
Edit
Some pieces such as Masks, do not belong to any one set. They can be acquired through the same ways as the sets.
All items (109)
A
B
C
D
E
F
G
H
I
K
L
M
N
P
Q
S
T
U
V
W